- Thu Jul 04, 2013 7:11 pm
#100745
Hey my names Richard
I am new to the power wheels game, but am usually very ambitious with my projects, and this is no exception.
I was referred to this site by a friend who I was speaking to about my current project. I have a 2 month old child, that I have taken it upon myself to make sure he has a bunch of toys REALLY prematurely.
I knew I wanted him to have a power wheels of sorts, and most likely I would be making it into the 1989 Batman batmobile, as this was the best one in my opinion (what i grew up with, since I was born in 1984).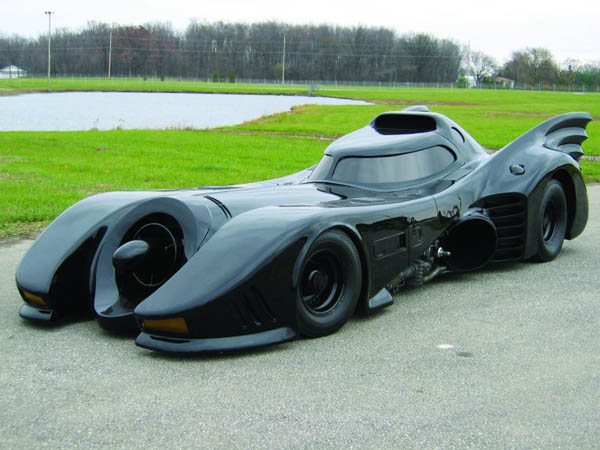 So I found what I thought was a ridiculous deal on craigslist for one with no battery, and went ahead and picked it up.
After a little more research I realized it was not the ideal starter for just a paint job and some decals, but I decided to roll with it anyways.
Here's what I started with:
http://www.walmart.com/ip/Disney-Prince ... ifications
It is 6v, but I ordered x2 6v battery replacements and will place them inline to each other, to make it 12v.
From there, I removed all decals/stickers and took the unit completely apart. I mean completely.
I then sanded down all components to be painted, first with 150 grit, then 220 grit sand paper. Once sanded, I sprayed everything off with a hose, to make sure all loose particles were gone. After allowing to dry, I cleaned off all surfaces with windex, using blue shop towels to ensure no loose particles would be left over.
While I was waiting for all parts to dry, I constructed a make-shift painting-box, to make sure I didn't get paint all over my garage.
Once this dried, I started to paint. I used Krylon Fusion Black Gloss, as I have had a lot of luck with KRYLON Fusion in the past, when used with plastic. I painted several coats of black, very lightly. Once I was happy with the black, I then sprayed with clear coat, again several light coats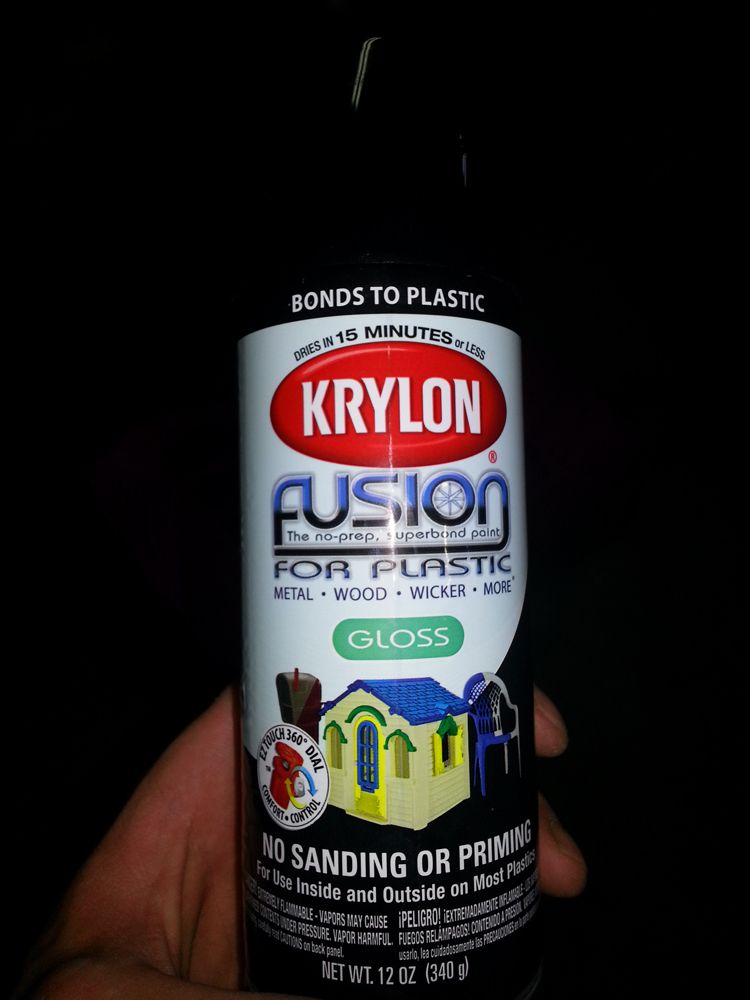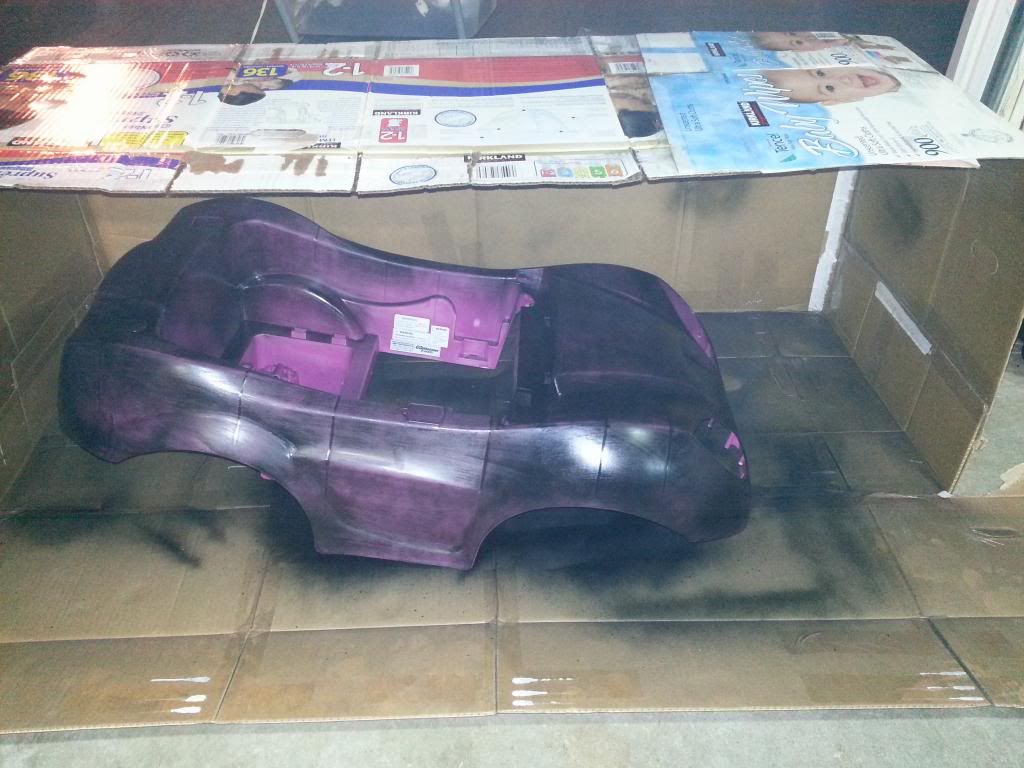 Since I was adding headlights, I drilled the holes out larger for some LED bulbs, and test fit them. After I verified they would fit, I cleaned them up a little.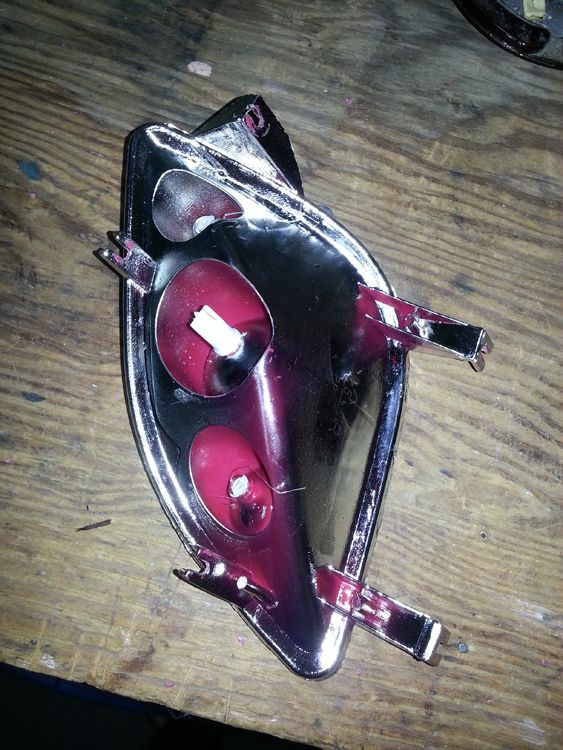 I added tail lights, but for this I used red LED 'tape.' (
http://www.ebay.com/itm/5M-12V-IP65-Wat ... 2a21cfd9a6
) Although this comes with a 3M backing, I made sure to glue these in the center of each tail light.
I also added 'flame' lights to the exhaust pipe. For this I used the same LED 'tape', but I used red & orange. Unfortunately, it turned out a little darker than I was hoping, but it still looks good. I used an adjustable pulse flasher inline (I had a pretty expensive automotive one lying around that i'll never use, but you can find them on ebay like crazy), the it would glow on and off. I didn't take pictures of this yet, but I will.
The steering wheel had 5 buttons, 4 of which made princess related noises, the 5th was the horn.
Since I didn't think the princess sounds were applicable to the Batmobile, I took the wheel apart and unsoldered the buttons from the circuit board. I then hot-glued the buttons in place on the wheel besides the 1 I wanted to keep, the horn.
I forgot to take pictures, but I added a microswitch internally on the steering wheel for the nerf gun (see later in post) trigger, but my plan to activate it has yet to work so we'll see If i even use it.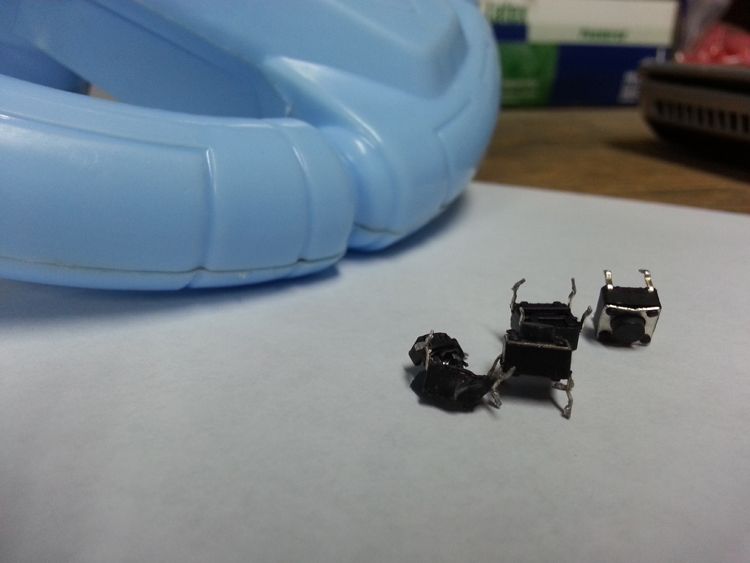 I made bat wings for the rear out of an old plastic tote I had lying around. I cut out the approximate size desired, but in rectangles. Laying the plastic over the handle for a rubber mallet, then holding down it down on each side with other handles, I heated the plastic, holding pressure down around the handle of the rubber mallet, making it mold around the handle, to make the curves. Once the plastic cooled, I cut out the shape of the wings, making sure to leave a little access at the bottom for mounting. When the wings were cut, I heat up the bottom and bent the bottoms to match the mounting location desired on the rear of the PW.
After all of this, I drilled the holes in the new wings and the body of the PW, making sure to follow the curve of the body. Once set, I then sanded/painted/ and cleared the wings to match.
After this dried, I used some typical plastic mounting rivets usually used for automotive body parts.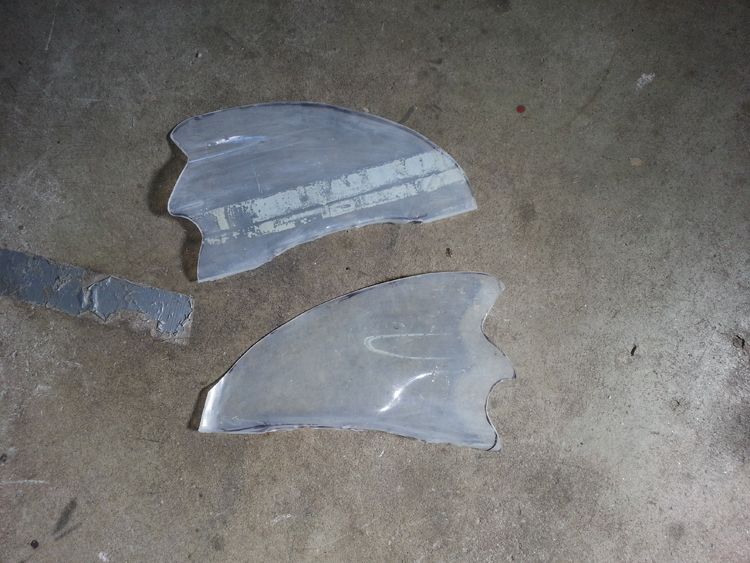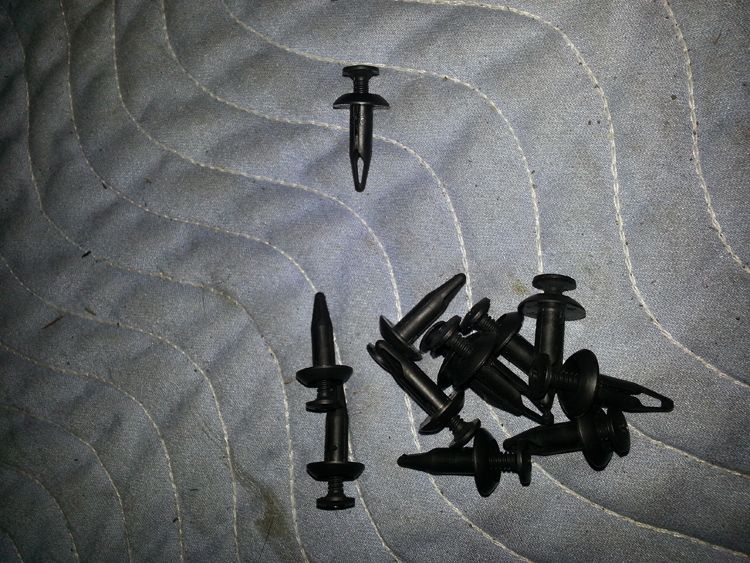 In the mean time I have been looking at decals and parts, and there were a couple things I wanted to add:
Added real mirrors so they actually reflect.
I made some decals myself (used to replace originals), and purchased some on ebay:
(the joker will go in the drivers mirror)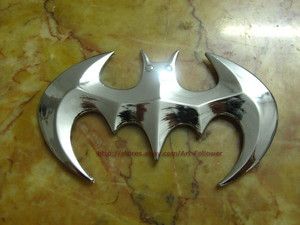 Programmable buzzer to play the batmobile theme! (controlled by a switch)
http://www.mcmelectronics.com/product/P ... R-/50-2992
I also wanted to have a Nerf Gun to shoot out the front of the bumper, but a couldn't find anything online or on this forum that did this completely electrically without using a nerf vulcan. I needed something compact and electric. I couldn't find anything completely electric, but I did come across the nerf barricade; this has an electric motor expell the darts, but requires a manual trigger pull.
http://www.amazon.com/Nerf-18616-N-Stri ... B003YJER8U
I did some nerf gun mods to make it work (trigger safety, shorten barrel + more)
After some research, I found that the max voltage the motor will support without replacing the motor, is 9volts. I am going to hook this up to toggle switch to 1 of the 6v batteries. The trigger is the tricky part. It needs an inch travel of play, but the only things I can think of are about 3/4" of an inch (my background is automotive) - a door lock actuator, solenoids, etc. So this I am still working on.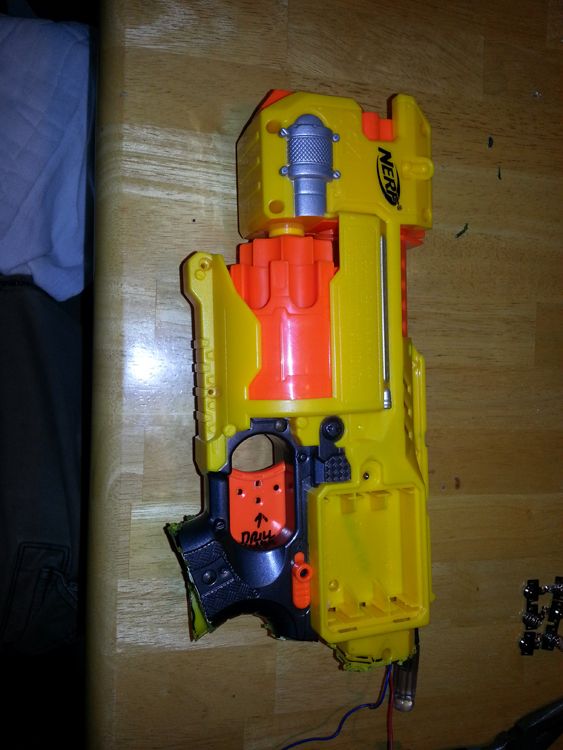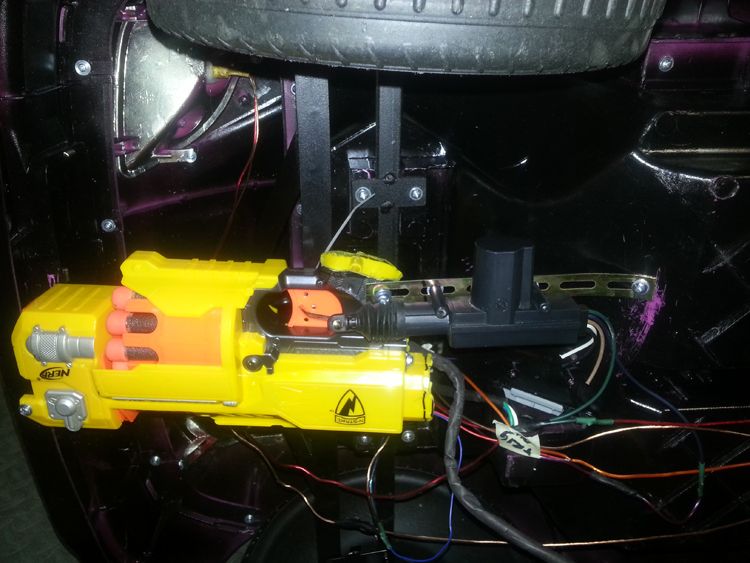 I'm at a point where I am simply waiting for parts to come in (decals, batteries, programmable buzzer) I will add more videos and pictures once this is done.
This is where it's at now: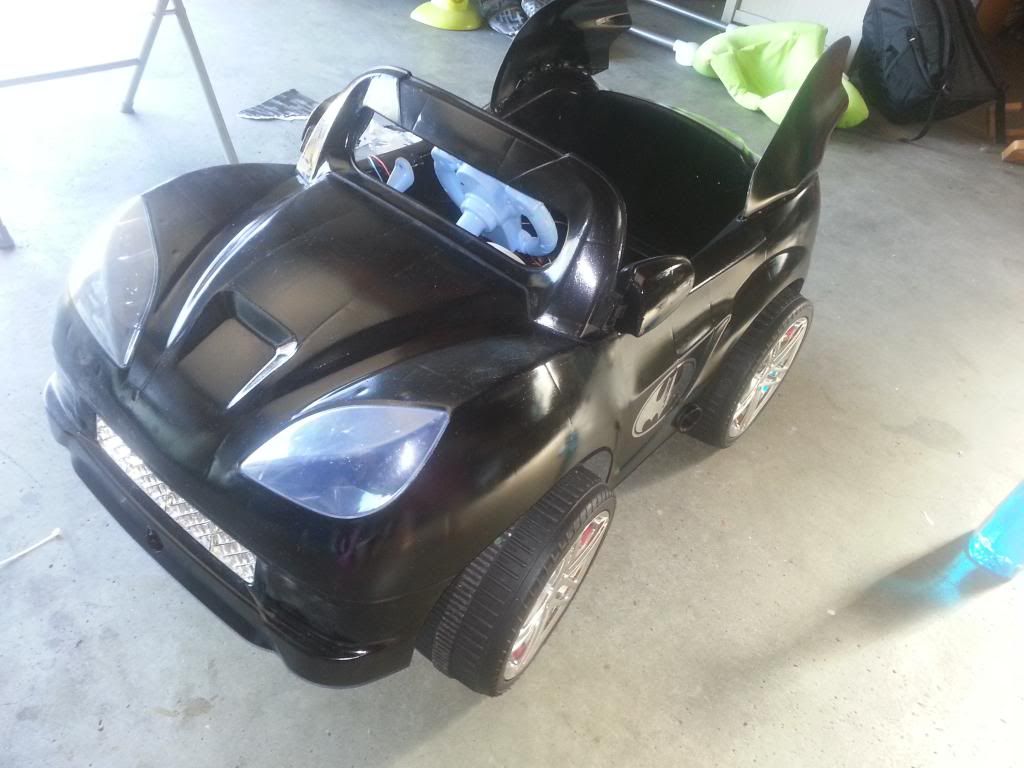 Thanks for reading my post,
Any input is appreciated! (especially on the nerf gun!!!)
Last edited by
InfamousTree
on Mon Jul 15, 2013 7:21 am, edited 3 times in total.
When they tell you it's an addiction, they aren't lying.
Common Use Links:
MPW diagrams thread
LED Tape
Programmable Buzzer
KidsWheels
HobbyMasters
MendingShed
Builds:
Princess Convertible-to-Batmobile Build
Escalade Build