By
66deuce
- Tue Jun 02, 2015 10:53 pm
- Tue Jun 02, 2015 10:53 pm
#132587
Hi all. Despite my post count, I'm not new here. Had an account before, some of you may remember project barbie crawler:
viewtopic.php?f=3&t=13167
Anyway, I'm now re-registered and going to share my latest project!
I actually picked this jeep up for $40 right around the time I was finishing Barbie crawler, but it's been on the back burner, as the girls took quite some time to get used to the smaller ones and I had other irons in the fire. But I finally got motivated when I spotted a stack of brand new 15" Kenda snowblower tires at my friend's shop, of which I purchased 4. That night the wheels in my head started working out the details, and the parts ordering began. I got the frame built last week, and some of the bits I ordered are starting to trickle in. We're still ~ a month from completion, on account of the 120 tooth steel 1 module main gears and 1.5 module bevel gears for the diff had to come from China, but I have most of the suspension and electronic parts now. It will be 4 link suspension 4 wheel drive, powered by a pair of UB12120 batteries running volts and amps through a 3,000 Watt PWM controller to the 68x92mm DC brush motors.
Here is a comparison of the stock motors vs. the new units: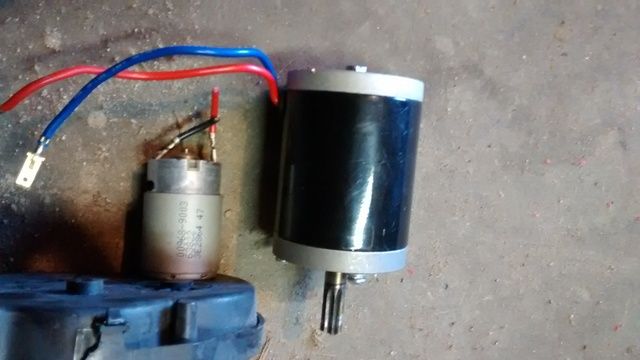 This is the frame, made from 0.083" wall 1"x2" square tube, MIG & TIG welded:
This is the approximate finished ride height: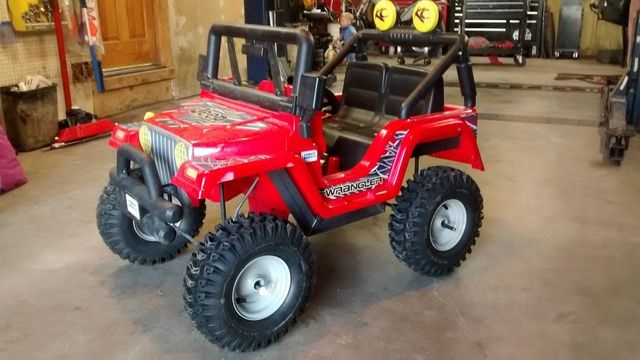 It will ride on coil-over shocks, made from 1" OD x .120" cut-to length coil springs over 100N lift struts. Still waiting on the M6 metal heim joint ends, but the plastic bits were fine for mocking it up. Machined 416 stainless low spring mounts, and used some vinyl tubing over the strut body to help keep the spring straight (pic before tubing was added):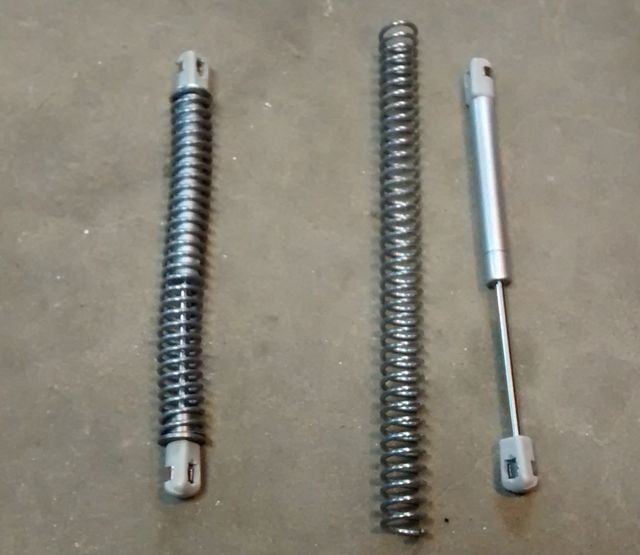 Front axles consist of 1/2" round bar with a ball machined on the end, the stubs I turned from 1" stock to 5/8" diameter except for the rear flange. I went with an impact wobble type joint because it is simple, and because it allows me to move the joint and knuckle pivot closer to the center of the wheel to mitigate tire swing during turns. Cross pins are 1/8", and are held in place by the bearings (double row 5/8x1-3/8x7/8):
I do have the first bearing housing made, although the knuckle and steering arm portion are not yet fabbed. The bearings are retained by snap rings on both sides. The wheels are 1" keyed, so I will be machining inside and outside keyed adapters 5/8" ID & 1" OD. The entire stub axle, adapter & wheel assembly will be retained by a 5/8-18 castle nut.
Axle housings are 1" ID schedule 40 steel pipe. The gear boxes will be made from two pieces of 1/2" plate in a tear drop shape, which a friend of mine will water jet the external profile, then I'll mill the internal dimensions. Each housing half will be welded to the axle tubes, then they'll bolt together with five 5/16-24 socket heads. The differential carriers will bolt to the main gear. Out drives will be 12mm 12 point sockets, welded to the bevel gears, with corresponding male triple square cut into axle shafts. These will be oil filled diffs as well.
The suspension won't be anything fancy, basically what you'd find under a real Jeep TJ or JK, with 4 links and a track bar on each axle. LH and RH threaded 5/16 heim joints with 1/2" OD bar for the links, steering linkage will be 1/4" heims. I have not yet decided if I'll stick with a simple arm pattern for steering or make a gear box , will probably wait and see how difficult it is to turn on the aggressive pneumatic tires under the (estimated) 135 lb curb weight.
These motors clock 4188 RPM at full tilt on 12V, so the no-load wheel speed would be 12.4 MPH; I expect speed with 80 lb payload to be 8-10 MPH.
Will update as more progress is made, hope ya'll enjoy this one!
And no, aside from water jetting the gear box housings, none of this is being farmed out or done on CNC equipment. All the custom parts you'll see here are machined manually on a Lagun FTV-2 knee mill and Hardinge HTC lathe, all welding in-house with a Snap-on MM250SL MIG and Simadre 5200DX TIG/Plas.