- Thu Jul 12, 2018 1:06 am
#149394
Pre project note: I reused some of the original metal frame. It is galvanized. You MUST remove the coating with acid before welding. Use appropriate gauge wire, USE FUSES, solder connections and seal from elements.
This started out a few weeks ago as a $25 Craigslist dune racer. I have a 3 and 4 yo and they needed an upgrade from their old 6v ride on.
After taking apart and cleaning all the switch internals, cleaning and greasing, it ran perfectly. The only problem was the run time. 2 kids+ hills and 3 acres, meant unhappy campers when it ran out of juice. Added as many batteries that I could, but it wasn't doing what I needed it too.
I wanted to retain the auto braking, speed control and reverse (for now) that the power wheels had.
Version 1: 25cc
Not about to spend a bunch of money on batteries, forever, I started searching. I found, essentially, a string trimmer engine mated to an alternator.i decided this is how I would fight the battery.
Found a new (closeout/overstock) alternator locally for $25. I had a 25cc trimmer engine laying around, and slapped it together.
Did some welding and wiring, and the first version was done. The engine was running flat out, and was charging the car, and providing power. Except it only worked on slow. Going into fast would bog the engine and stall it.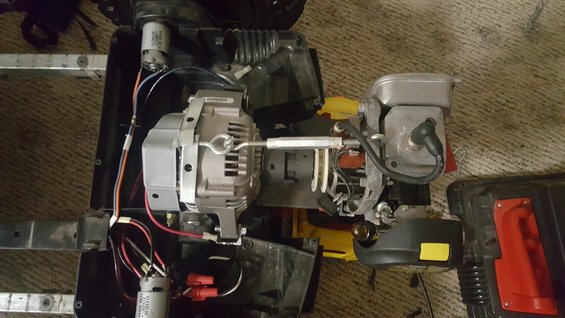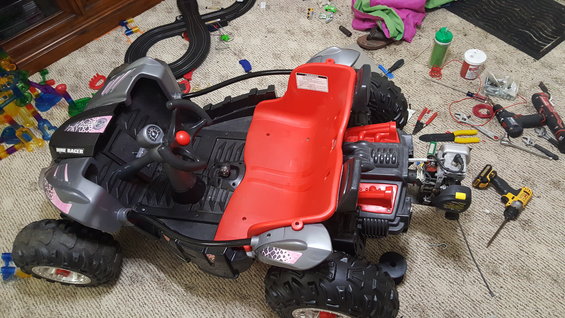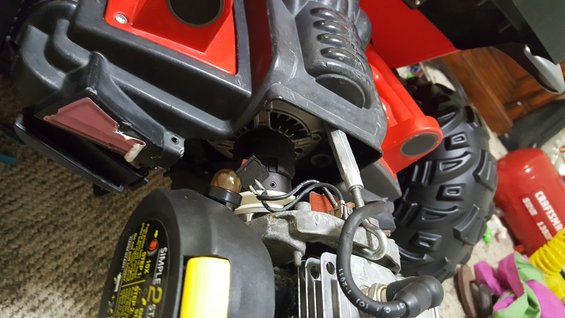 Attachments
Home brew (not mine) inspiration
2013-01-12-099.jpg (69.96 KiB) Viewed 4831 times
Commercial model 80-100amps 35cc 4-stroke
charger.jpg (26.94 KiB) Viewed 4831 times