- Wed Jan 12, 2011 1:44 pm
#4527
This tread could alternatively be re-titled to read "How I talked a potential buyer from giving me $200 for my $10 Hurricane and decided to mod."
Here are some pics of the finished mod of the jeep which I bought for spare parts: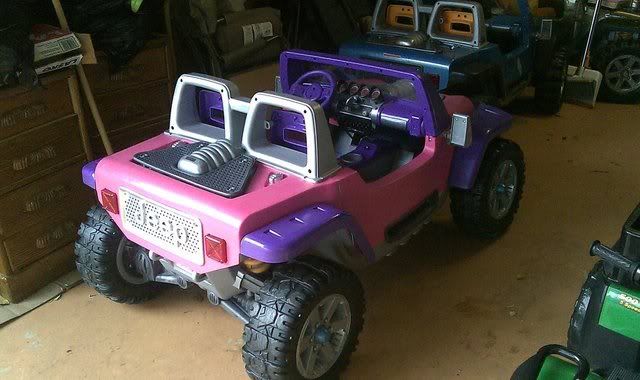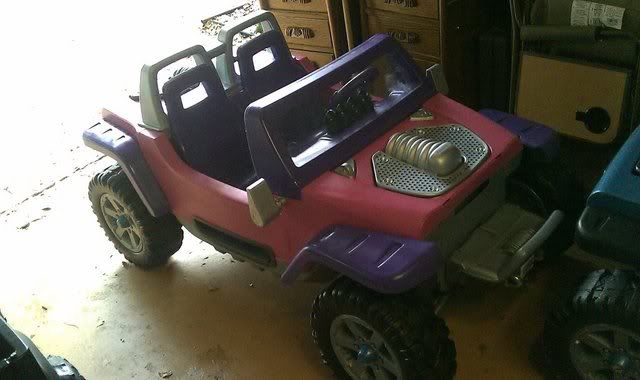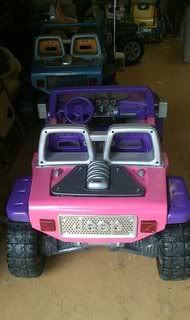 As I wrote in my LED Lighting Questions thread:
viewtopic.php?f=11&t=347
I'm kicking myself for not taking before pictures of the mod. But the reason why there weren't pictures was because I really never intended to do the mod.... it just kinda happened!
A few weeks ago I started a thread "Re: Found another Hurricane on CL for $10" viewtopic.php?f=3&t=225
When I bought it I had intended it to be just for spare parts just in case of broken GBs and worn tires. Well, little did I know that I had set in motion what would become a repair and mod with new paint and lights.
What set the wheels in motion for the mod was when Gambler said "I have a PP Polaris Sportsman 700 I would trade for [a hurricane.]" I've been really wanting to get a PP Polaris 700, but they are scarce here and I just missed out on one a few weeks ago. So, based on what Gambler said I decided to list an ad in CL offering to trade the Hurricane for a PP Polaris Sportsman 700 / 2X / 800. I got a few responses to my ad, but all the responses asked me how much I wanted to sell the Hurricane for. I wrote back to the people who asked about buying it, and I explained that I was really trying to trade it, not sell it, but that I would be open to any offers to buy.
On Saturday one of potential buyers replied that they would pay $150 for a Hurricane in good condition and he could come right over to buy it. After that email I went to my garage to clean up the Hurricane. While I was cleaning it I figured I should probably put a battery in it to make sure it worked. Because I had only bought it for parts, I had neglected to test it out to make sure it worked! Well, sure enough it didn't work -- at first. Thanks to MPW I knew that the first thing I should check is the switches. So, I started taking the jeep apart until I got to the switches and I tried cleaning them. That didn't work. Either I'm a bad switch cleaner, or the switch was bad. Since I couldn't get the jeep running, I emailed the potential buyer and told him I was having trouble getting it running and I didn't want him to wait on me since I didn't know when or if it would be fixed.
At that point I was actually OK with not selling it because as I was taking the jeep apart I got to thinking that this would be the perfect opportunity to do my first real mod, and I started to get excited about it. Assuming I could get it running, I planned on painting it pink and purple for my girls and putting in head lights and tail lights. So, back in the garage I went to try to fix the jeep.
Luckily I have another parts Hurricane that I picked up a few weeks ago that is in bad cosmetic shape, but ran fine. So, I starting taking the jeep apart and took out the switches to put them in the other Hurricane. Once I replaced the switches it worked fine. So, since I got it working and I had decided I would do the mod, I finished taking the body pieces of the jeep apart to get ready to paint on Sunday.
Later that Saturday while I was out for the night I got an email response from one of the
other
people who saw the CL ad and wanted to buy the jeep. His response to my "make me an offer" email was "I'll pay $200 for it. I can come and get it now." CRAP! While I wanted to mod it, how could I pass up $200 for my $10 Hurricane??? Since I had taken a lot of it apart, I wanted to make sure that the guy was serious -- because I didn't want to put it back together and have him reneg on me. So, I gave him a call. I explained that the jeep was a little faded from sun exposure. He was fine with that. I then asked him how old is kid was to make sure he would fit. He told me his son was 7. I told him that a 7 year old might be too big for a Hurricane - or wouldn't be able to use it for that long. (Again, I didn't want to put the jeep back together only to find out later that the guy's kid doesn't fit in it!). At that point the guy said that his neighbor had a Hurricane and his son (who is small for his age) rode in it, so he knew that his son would fit. I said "ok" then, and told him I would put it back together. Again, I was conflicted because I really got excited about doing the mod. About an hour later the guy called me back and said that based upon my suggestion he went back to his neighbor with the Hurricane to double check to see how well his son fit in it, and that he agreed with me that his son would not really get that much use out of it before he outgrew it. So, that's the story how I talked a potential buyer from paying me $200 for my $10 hurricane! I guess I'm not cut out for the fix n' flip business!
Sunday morning I went to Home Depot to get spray paint and remembered that people recommended Krylon Fusion... but they don't sell that. Only Rustoleum. Also, the only paint they had for plastic did not come in pink or purple. The paint guy told me if I used the plastic primer, I could use any color. So, I picked up a couple cans of the plastic primer and some glossy pink and purple paint. I painted the main body pink and painted the seats, mud-flaps, steering wheel, and dash board purple. The other parts I repainted chrome because they had faded. I waited a week and then put a few coats of clear coat on. (But I don't think I did a very good job because there are already a few scratches on the jeep).
Then I decided to do the light mod. I figured that since everything is already apart, that would be the best time to put in some lights. So, I went online and ordered MR15 48 LEDs (that Timmbo23 used in his project) for the head lights and the Oznium Superfluxes for the tail lights. I just installed them last night and haven't had a chance to take pictures yet. To wire them up I used a terminal block /barrier strip mounted in the front compartment. I used velco to secure the terminal block to the side of the compartment. For the lights I used a separate 12v 4ah battery that I got for free [
viewtopic.php?uid=112&f=3&t=554&start=0
]. I also used a couple strips of velco on the bottom of the battery to keep it from sliding around the compartment when the jeep is moving.
The only thing I might need to change is the connection to the LED itself. I had planned on soldering the wires directly to the back of the LED, but that didn't work so well. The wires kept sliding off. So I rigged a connection by using a bullet connector like this one that I got from Radio Shack:
But I'm afraid that the connection might not be that great and might come loose if the jeep goes over bumps and/or hits something. Just in case that happens I bought a couple MR15 connector that I got for $4 each at Lightbulbs Unlimited. Maybe I'll just go ahead and change them eventually, but for now I'm going to see how the connection holds first. Maybe I'll use the connectors for another light mod since I have another two MR15 48 LEDs on their way.
Anyway, so now comes the part of the project that entailed a repair. Again, I probably should have made sure the jeep worked properly before I went to the trouble of modding, but in my haste I neglected to do that! Well, after I was all done with the paint and my kids hopped in the jeep, I noticed that the front wheels sagged really bad. It was still rideable, but barely. So, I popped the wheels off and took a look at the steering assembly. There was a lot of "play" when I moved the ends of the steering assembly that connect to the wheels. Since I had another spare hurricane for parts, I figured I would just swap the steering assembly out since I knew that there was no sag on the other jeep. (The other parts jeep worked fine, but was in really bad shape cosmetically).
After I swapped out the steering assembly and put the wheels back on, the sag problem was even worse! So, I took of the wheels and steering assembly again to try to troubleshoot. . . . Now, I don't know if it was previously removed or if I removed it and forgot to put it back, but after about 30 minutes of playing with the steering assembly and trying to figure what was going on, I noticed that the large cube-shaped, hollow steel bar that runs parallel to the steering assembly was not there. (In trying to troubleshoot, I flipped up one of my other hurricanes on its back end so that I could see the underside of the jeep. I looked at both jeeps to compare them in order to figure out what was wrong with the one I was modding. Then all of a sudden it hit me that there was no steel bar!!! I then took out the steel bar from my spare parts hurricane and fit it into place in the jeep I was modding. Eureka! That fixed the problem. I felt like such an idiot (and I'm glad that there was nobody there to witness what was causing the problem).
So now, finally, the mod is complete! The only thing I might do now is get some vinyl decals for my daughters to decorate the jeep with (like flowers or princess stuff).
I am very glad that I did this mod. Until I started the project, I had not really taken a BPRO apart before. And since all my BPROs were bought on CL, I had never put any of them together either. Taking the jeep apart made me realize how easy it was to do the mods and taught me a lot. Now that I have this mod under my belt, I think I'll eventually do lights on my other hurricanes too.
Last edited by
Miami Hurricanes
on Wed Jan 12, 2011 1:45 pm, edited 1 time in total.
3 Hurricanes of various colors, 2 Gaucho Superpowers,
CAT Skid-Steer Loader, John Deere Buck (18v)