By
tjenne
- Sun Dec 22, 2013 9:29 pm
- Sun Dec 22, 2013 9:29 pm
#114655
My son James has CP (and a laundry list of other diagnoses) due to a hypoxic brain injury at birth. He is almost 18 months old now. He loves to be outside and to bounce around. I came up with the idea to R/C a Power Wheels a while ago. When I started looking into the idea seriously, I came across this forum. Since so many here have done similar projects for their Special Needs children, I figured I would share my project here as well.
Pic of me and the boy:
I'm just getting started with the project. I bought a used Mustang off CraigsList this past weekend. I chose the Mustang because I have owned four of them in my days ('69 Fastback (never actually had it running), '00 6 cyl, '03 GT, '07 GT). My goal is to have it working for him by the spring. I used to race R/C cars when i was younger, so I am comfortable with the basics. I have read several other threads here and have gotten a lot of good ideas. I just need to start accumulating the parts.
I have an old Futaba Magnum AM radio and receiver I am planning on using. Hopefully that will work for this project.
Pic of the car: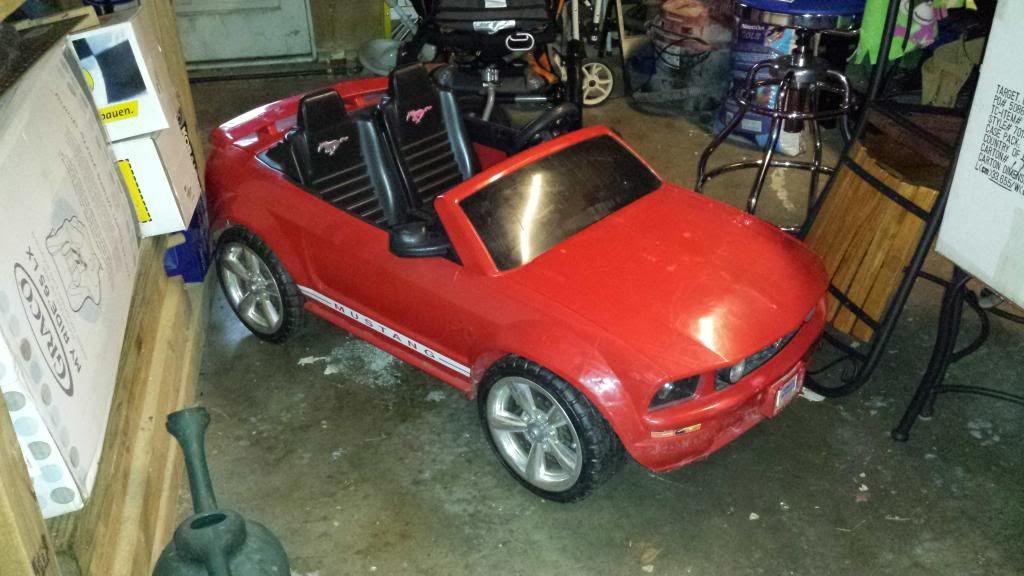 What I have so far:
Mustang Power Wheels - $75
Futaba Magunm AM Radio and Receiver- It's 20 years old. Who knows what I paid for it. But it worked as of a couple years ago when i got my Losi truck conversion running again.
What I am planning:
Actually I have not spent too much time on this.
Linear actuator seems to be the way to go for steering. I've read durb69's topic, and will probably go with that one or something similar.
Speed controller seems like I can do pretty much whatever. I have a Novak controller, but since it has no reveres, i probably will get something else.
Seat may be an issue. James has hypotonic CP, which means he has very low muscle tone and he needs to be supported well. May have to go custom to get the right support. I kinda want to keep it a two seater, but that may prove difficult.
I'll update this as the project progresses. Thank you all for the information you have already shared on your projects. I'm sure I will have questions along the way.