By
Jornum1
- Tue Sep 06, 2011 11:17 am
- Tue Sep 06, 2011 11:17 am
#36189
So my son has grown out of the rc on the brute force already. with the wide bars he was overpowering the steering, and has now learned how to steer pretty good.
I found a real cheap escalade for him on cl. He really likes it. It was always his favorite while cruising the pw isle in Toys r us because of the doors and radio.
Believe it or not I did this whole setup in about 3 hours
There was a parade we were going to be marching in that I wanted my son to be able to ride the truck in. So I took this on Friday night for saturday.
I did it quick and dirty for now. Just disconnected the stock wiring from the motors and ran it directly to the esc.
Mounting the servo was actually quite easy. A little cutting and some aluminum spacers, and it was mounted up.
I setup two 12v batteries in series to ensure I had enough power to last the whole parade. I brought one more in the hood to hook up just in case they didnt last. The route was actually shortened due to the flooding in NJ. So we only did about 1.5 miles. He rode around for about another 1/2 hour afterwards with no power loss.
I want to try to wire the two 12v's up in parallel and then use the esc's control to 75% throttle. I am thinking that should bring me around 18v then.
Here is the truck when I brought it home.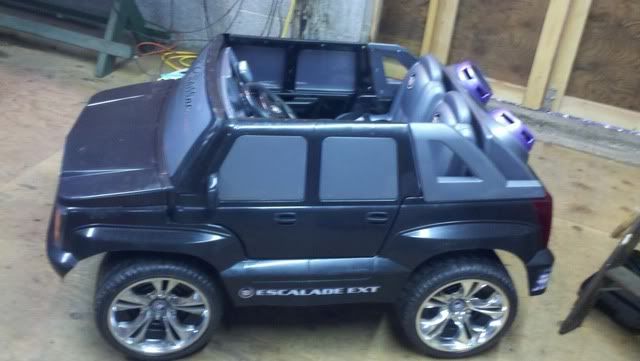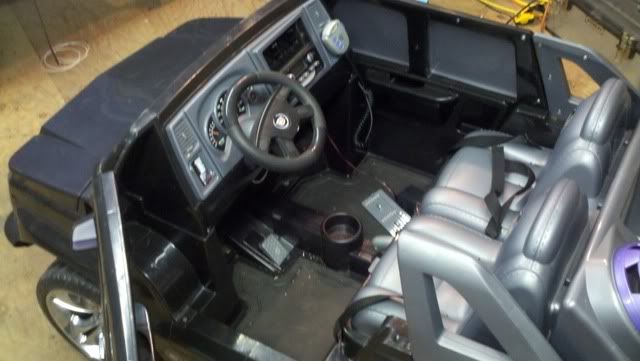 This is the back under the speaker box. There is a lot of room under there.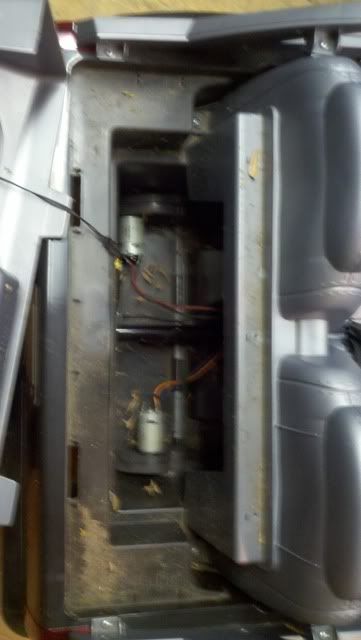 I took a 2x4 and cut it to fit on the lip pictured above. then I mounted the esc, receiver, and batteries. the batteries fit perfectly under each of the speakers. I zip tied them down and just charge them right on the PW.
I am going to make another one which will closer to the gear boxes as I plan to get rid of the speaker box and make a storage area for my son. Possibly a working tail gate, but not sure about that yet.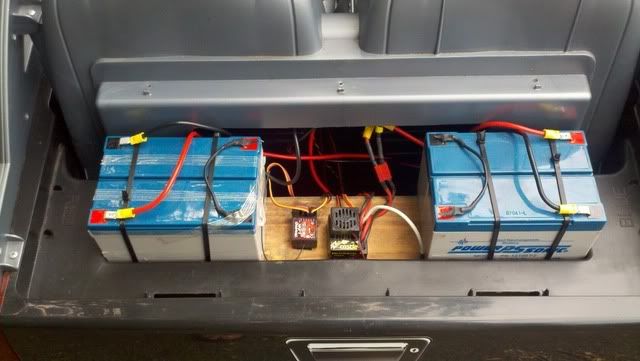 Here is the steering. I cut some of the fins on the center to get a flat surface then made some 3" risers from some aluminum tubing. A couple bolts and it works great. the flat escalade wheels combined with removing the battery from the hood made the steering work very nicely.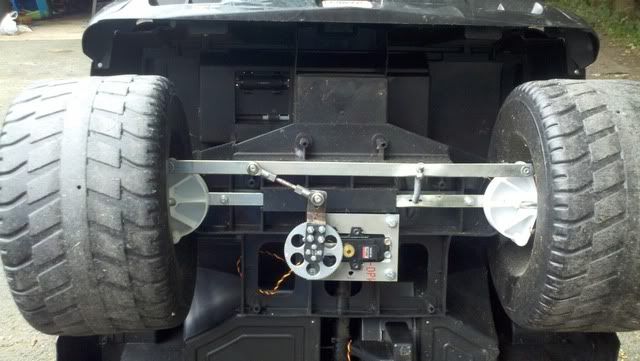 Here is a vid of the steering in action(wasnt completely centered at this point). I will get a good one of it riding soon. Hopefully I can get ahold of some pics/vid from the parade.
Last edited by
Jornum1
on Tue Sep 06, 2011 11:18 am, edited 1 time in total.