By
dannyk
- Thu May 21, 2015 6:03 am
- Thu May 21, 2015 6:03 am
#132184
A few years ago we bought our son Hanma 12v Hummer style powerwheels seconf hand. The battery was no good so i shoehorned a 12v car battery in its place under the bonnet. He ran it like this for a year or so, but it was getting tired, the wheels were done and the motors had that hot electrical smell about them!
I started looking at this site for ideas on how to fit some lawn tyres and potentialy upgrading the motors, this is when i the project started to snowball.....
I'll let the pcitres do the talking but it no consists of the following:
4 link rose jointed arms front and rear on a steel 'ladder' chassis.
Coilover type suspension with 120lb springs.
Mobility scooter rear axle (inc 24v motor), front hubs, ECU.
2 x 12v 70ah leasire batteries.
18x9.00-8 tyres.
Smart Car steering rack.
Side lights, head lights, 4 spots, rear amber flashing leds.
4 point harness.
Bonnet pins.
etc.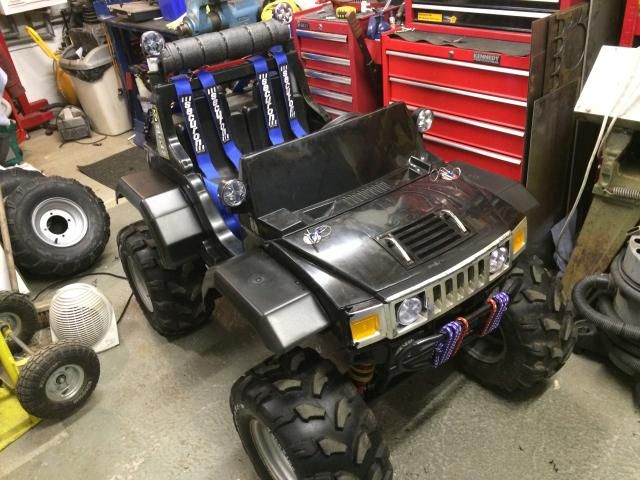 I've also just aquired a 6v ( i think) Ranger rover powerwheels, a bit smaller than the Hanma. I also have another son so this is next on the list, but nothing as involved as the Hanma. Just battery, wheels and motor, probably another scooter.