- Mon Sep 17, 2012 7:08 pm
#78211
The thread here in the How Stuff Works section named Basic Electrical Principles as Described by a Fluid (posted by jparthum), needs some clarification. I dont mean to be disrespectful, but the diagrams are very misleading and could lead to an inexperienced person being badly hurt. The diagram in that jparthum thread labeled Batteries in Parallel looks much more like actual batteries in series (as actually wired up). A better diagram would be: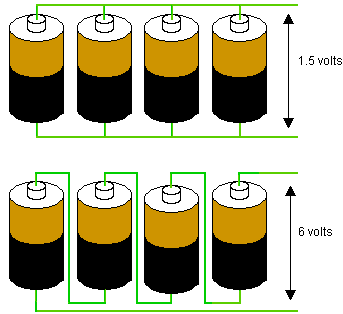 The batteries arranged in parallel are on the top, and the batteries arranged in series are on the bottom.
Also, current (I) is better described as charge flow rate per unit time. The great hydraulic analogy that is useful to those not familiar with electricity is to picture water flowing in a pipe, with:
Voltage = water pressure in the pipe
Current = Flow rate of the water per unit time
Resistance = diameter of the water pipe
with the two most useful equations of electricity:
I = V/R (the current equals voltage divided by resistance)
and
V x I = W (voltage x current = watts = ability to do work)
Last edited by
jayhall0315
on Mon Sep 24, 2012 11:31 am, edited 6 times in total.