By
h-bomb
- Tue May 08, 2012 1:08 pm
- Tue May 08, 2012 1:08 pm
#61910
Hey all...been away for a bit (you guys packed up and moved on me!) Anyway, now that my son is nearing his third birthday and ready for a PW, and my daughter (who's 5, but wears size 8 clothes and is very tall for her age,) still wants to ride (wish I had kept that last Gaucho,) it looks like another summer of fun for me!
Since we did so well over the past two years, there was enough money in the PW fund to buy my daughter a new Hurricane (ouch -- but it got me out of the doghouse with my wife for selling the Gaucho.) I'll pick it up next week -- it'll be fun to build one out of the box instead of tearing apart someone else's mistakes like I'm used to.
I picked up these two last night from the same seller. The McQueen is for my son (it's the Super 6 version,) and the Harley will probably be a flip. Both are in great shape and have been kept indoors. Good batteries and chargers came with them, too. The McQueen is missing the headlight decals, so it was Hobbymasters to the rescue this morning. Already got the shipping notification, too!
The seller wanted $65 each, I brought them home for $85 for the pair. More than I'm used to spending, but not bad considering. These and the Hurricane were bought with money made from flipping PWs in the past, so technically they're all free. Right?
Both are hidden in my basement office until I can get the Hurricane home and put together and then surprise both kids.
Now I gotta start watching the curbs on trash day again...
Here's the Harley...
EDIT -- SOLD $85 5/16/2012
And the McQueen (or as my son calls him, "Ka-chow!")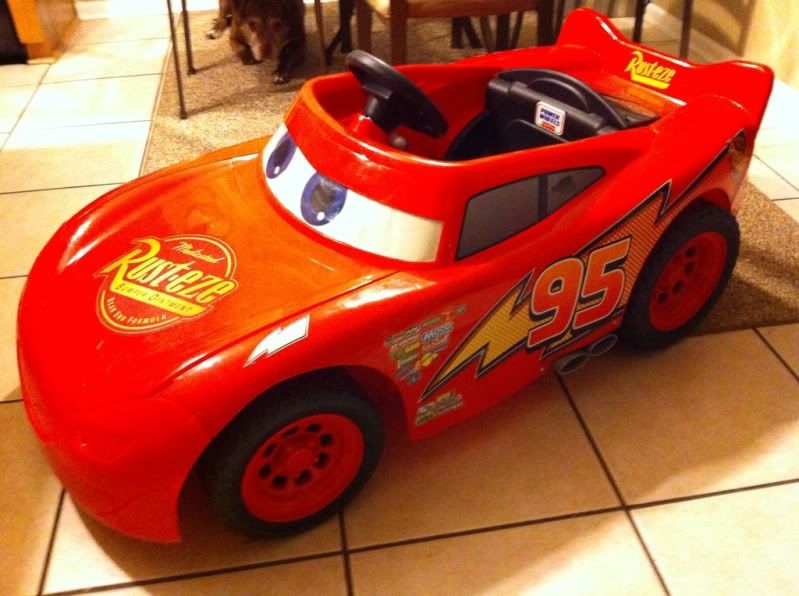 Last edited by
h-bomb
on Thu Jul 26, 2012 10:25 am, edited 11 times in total.