- Mon Apr 09, 2012 12:54 pm
#58301
This Mustang Power Wheels was originally red. At the time we bought it for her she was into the color blue so I completely disassembled it and painted it baby blue. I have since added some pink racing stripes that she asked for and a 24v "Turbo" mod. She loves driving her car and is learning to do power drifts using the turbo button.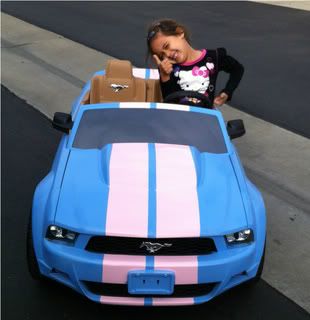 Completely disassembled the car. Cleaned all the surfaces with TSP and user a white spray primer for plastic to prep for the blue paint.
Added some pink racing stripes (requested by my daughter)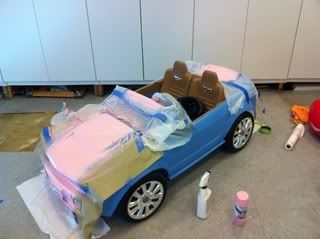 Added some LED accent lights to the headlights.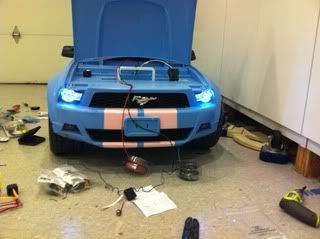 Added 2 12v 7ah batteries at the rear axle. Wired in parallel to give a longer range in 12v mode and to allow for 24v turbo mode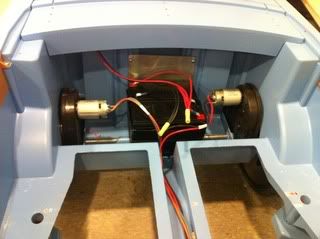 Added a trailer lighting plug to allow changing of the batteries from a single source and not to need to remove the seat every time.
Added a momentary switch to the steering wheel that is used for the turbo mode.
Wired the stock and additional batteries using some automotive relays. When the system is not activated it configures the 12v batteries in parallel allowing an extended range/run time with a combined ~23ah. When the turbo switch is activated it changes the configuration of the batteries to be in series making for a 24v 12ah configuration.
Testing out the wiring.
[video]
[/video]
The Mustang is still running strong after about 3 years
- -
[video]
[/video]
Last edited by
emark421
on Tue Feb 24, 2015 1:43 pm, edited 3 times in total.