- Tue Jan 24, 2012 10:05 am
#51695
Here is my opinion of the ultimate gearbox/motor combo.
1. Either the Banebots 775-18v
These are 700 series. They will fit Metal frame jeep gearboxes and #7s gearboxes (with a 3/32-1/8 shim). This is what I use in my 24 volt ESC mods. They are astounding! Not sure if stock wiring can handle them. They are currently under $18 each.
Motor Specifications Performance
Model M5-RS775-18
Operating v : 6v - 20v
Nominal v : 18v
No Load RPM : 19500
No Load A : 2.7A
Stall Torque : 166.4 oz-in 1175 mN-m
Stall Current : 130A
Kt : 1.28 oz-in/A 9 mN-m/A
Kv : 1083 rpm/V
Efficiency : 78%
RPM - Peak Eff : 17040
Torque - Peak Eff : 23.99 oz-in 169.4 mN-m
Current - Peak Eff : 18.7A
Physical
Weight : 11.9 oz (337g)
Length - for motor : 2.81 in (71.3mm)
Diameter (with flux ring) : 1.85 in (47mm)
Diameter (no flux ring) : 1.66 in (42.1mm)
ShaftDiameter : 0.2 in (5mm)
Shaft Length : 0.3 in (7.6mm)
Mounting Screws (2) M4
These are the motors.....
http://banebots.com/pc/MOTOR-BRUSH/M7-RS775-18
They are actually Mabuchi RS775WC-8514. The part number is on them under the BaneBots sticker.
I had lots of questions about these so I had to test them. I was looking for more torque and the 1175 mn-m rating on these was astounding. The stock PW motors are under 400 mn-m. They are advertised at 273 watts at peak efficiency. (scooter motors are 250 watts)
I was concerned about the gearboxes and the wires. These draw lots of amps!
The first thing that caught my eye was the thickness of the torgue sleeve....one big chunk of steel!
I put these in my 18 volt 4x4 jeep for testing. Since they are 18 volt motors I installed them without heatsinks, just like they came out of the box.
The motors bolted right to the #7 gearboxes without issue. The pinion , however, required some "tinkering". The shaft on this motor is not long enough to install the pinion gear "backwards" as required for the #7 GB. I installed it frontwards(set screw side facing the motor) and made a shim out of some lexan scraps to line up the gear.
It was easy to trace the motor onto the clear lexan. I cut out a few cooling slots, along with the monting holes, so the air could pass into the motor.
Due to the slightly lower rpm of this motor, I swapped out the 19ts for some 21ts.
PERFORMANCE......WOW "TORQUE MONSTER"
I am using a 60/80 amp throttle relay in this jeep. I have no idea how stock stuff would hold up. The 12 ga wire will all 4 motors running off it, gets slightly warm. The motors have not exceeded "warm" either
At one point there were two kids in this (about 80 pounds) in deep wet snow. Barely any straining and no slowing down. It became stuck at one point and the rear wheels (with traction aids) never stopped spinning! Those of you in the snow belt know what usually happens.....stall....SMOKE!
The gearboxes are ok so far. I do have the drivers start in low and shift up to high. The one time he forgot, the front tires lifted a good 6 inches off the ground.
I also think that they have so much torque that they are running at the "no load" RPM. A PW on flat ground does not load them enough to slow them down. This also means that they draw less than the advertised amps under "normal use".
If you have upgraded your wire/switches....and are looking for excessive torque....These are a good choice.
2. Or I've used these
I took a pair of theseDeWalt Part # 393111-01
Voltage 18vdc (can be overvolted)
RPM 20,000 ungeared
Output gear 16 Teeth, nonstandard pitch
Gearbox BPDGFGD18
Weight 18.8oz (1.175lb)
Length 78mm (3.07")
Diameter 46mm (1.8")
Output pinion 16 tooth gear
Shaft 5mm dia x 7mm
Armature Resistance: 0.072 Ohms
Stall Current: 250 Amps
Torque Constant: 1.2 ozf-in/Amp
Stall Torque: 300 ozf-in
Angular-velocity Constant 1100 RPM/v
No-load Current: 2.6 Amps
Peak Power: 1.5 HP
Peak Effeciency: 81%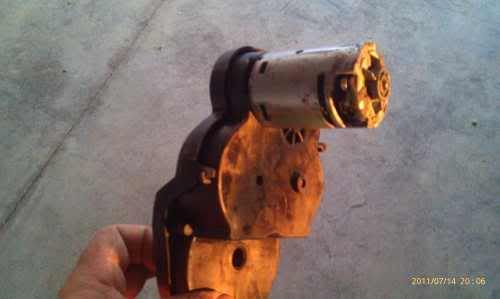 And to maintain reliability of the box under higher rpms than the factory intended adding rc bearings to the first gear in.
1. Re: Project: Unibody Jeep 4X4
by taz11 » Mon Nov 07, 2011 9:35 pm
Here are the details of the bearing installation in the #7 gearboxes.
The bearings are from Ebay. They are 3/8 OD x 1/4 ID. The same ones bricklayer used in his mod.
The bearings fit in the case like they belonged there. On the motor side of the case I used a nylon spacer (Ace hardware $.31) to space the bearing out flush with the inside of the case.
I drilled out the gear to 1/2 inch. This part proved to be problematic...the hole ended up off center. I found that if I started with a 3/8 bit and worked up one size each time( 8 bits total), the hole stayed centered...or centered enough.
Then I hammered in a 1/2 x 1/4 nylon sleeve (Ace hardware). The nature of the plastic gear tends to make the 1/2 hole slightly small due to the flex when drilling. This holds the sleeve in place perfectly. I needed to tap it in with a hammer. Then I ground off the excess untill it was flush on both sides.
For the next step I cut a 15/16 length of 1/4 rod. Regular rod stock, not the hardened stuff. I then hit it several times with a center punch to make dimples. These dimples make it a press fit into the gear/sleeve.
Total time once I had it figured out...20-30 minutes per side.Last edited by taz11 on Mon Nov 07, 2011 9:38 pm, edited 1 time in total.
DRIVE IT LIKE YOU STOLE IT!..........Out of somebody's garbage
***WANTED***
Looking for these motors "9013"(bottom one)
http://www.mabuchi-motor.co.jp/cgi-bin/
... rs_775vcwc
Please let me know if you see any!
Found the "8514" thanks to Bricklayer99
http://banebots.com/pc/MOTOR-BRUSH/M7-RS775-18
Here is another version
by bricklayer99 » Tue Jul 12, 2011 8:04 am
After melting multiple gears and gb @ the first gear in Ive been talking with taz about a solution and he found some small rc bearings 1/4" i.d. 3/8"o.d. here is a few pics of the install. I have not tested them yet nylon spacers epoxied into the 3/8 hole bearing epoxied into one end of gear bearing on other side of gear
download/file.php?id=4429
The gear spins freely, hopefully this will help cure my problemAttachments gear and bearings rotating on 1/4" hardened shaft cut from 1/4 shoulder bolt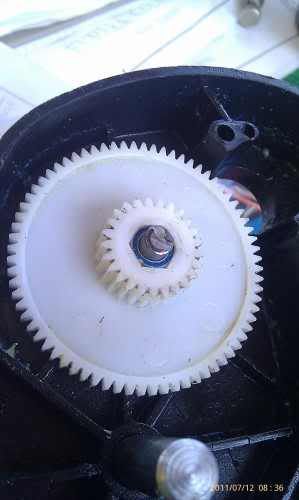 I've done some math for different gearboxes using the banebots for reference this is with a 15" tall tire
With a 21t gb @ 12v = 5.19mph 18v =7.7mph
19t. @ 12v = 4.65mph 18v. 6.9mph
16t. 12v. 3.94mph. 18v. 5.9mph
13t. 12v. 3.22mph. 18v. 4.8 mph
So with the banebots and a 21t gb you would have a slightly faster than stock ride that would be a torque monster and a blast at 18 v
Last edited by
taz11
on Tue Jan 24, 2012 10:53 am, edited 2 times in total.